Veneers In Worcester, MA
Every smile is unique and everyone wants to have a healthy smile they can show off. A smile that is plagued with stains and chips can be embarrassing and easily affect your confidence. A healthy smile doesn't have to be impossible to achieve. You don't need aggressive cosmetic procedures and hours in the dentist's chair to get a smile to be proud of. Dental veneers are just one way your Worcester dentist can boost your smile's appearance and give you the whiter, straighter look you crave. Dental veneers, sometimes referred to as porcelain veneers, are thin translucent shells that are designed to go over the front portion of a tooth to hide dental imperfections and flaws. Some of the common problems that veneers can improve include,
Stains and discolorations
Chips and cracks
Spaces between teeth
Minor overlapping
Misshapen or oddly shaped teeth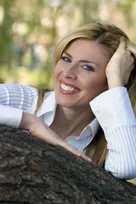 For those patients looking to get a brighter or straighter smile, dental veneers are an easy and non-invasive way to getting the look you want in just two visits. During the first visit to our Worcester office we will shave down a minimal amount of tooth enamel from the teeth before the veneers are applied. By removing some enamel we ensure that your smile isn't bulky or unnatural once the veneers are placed. Impressions are taken of your teeth and a specific shade for your veneers is chosen and sent to a dental lab, where they will custom design your veneers. During the second visit, we will apply the veneers to your teeth using a special resin. Then with a laser directed at the teeth we will harden the veneer permanently to your smile. Since veneers mimic the look and shade of natural teeth it's impossible to tell that you're even wearing veneers. When it comes to cosmetic dentistry we offer a full range of services to give you the ideal smile. Veneers are only one way to quickly and painlessly get the smile you've always wanted. With the proper care, your veneers could last up to 10 years or longer. With one simple consultation we can find out if dental veneers are the right option for your smile needs.
Interested in Veneers? Call Bayon Family Dentistry in Worcester, MA at (508)755-0372 to make an appointment.